World Run: 10 Unbeievable Running Course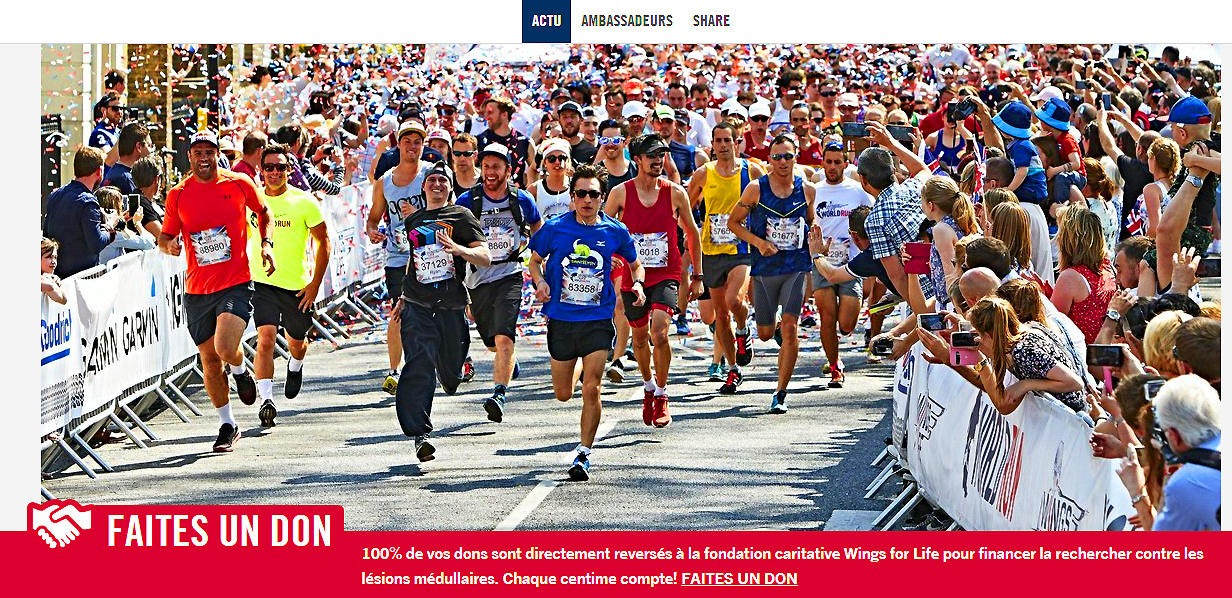 FRENCH VINEYARDS, A FROZEN SIBERIAN LAKE, CATCHER CARS, AND OTHER UNIQUE ELEMENTS HAVE CREATED SOME OF THE MOST REMARKABLE RUNNING EXPERIENCES IN THE WORLD.

Did you think the Wings for Life World Run was the only race out there with an exciting running concept? Well you were wrong! It's true that our global movement is one of a kind, with the moving finish line and all for a special cause; to find a cure for spinal cord injury - but there are other unique races. In no particular order, here are our top 10 weird and wonderful running courses;
Baikal Ice Marathon
When the waters of the largest freshwater Lake Baikal in the Irkutsk region of Siberia freeze, it's time for Winteriada, a games festival that includes ice fishing, ice golf, and a full marathon that stretches from one shore of the massive body of water to another.
Great Wall Marathon
Visible from outer space and regarded as one of the new Seven Wonders of the World, the Great Wall of China makes for an unbelievable race course. Runners must withstand more than 5,000 stairs along the way.
Le Marathon de Medoc
The Medoc region of France is home to innumerable beautiful wine vineyards. Le Marathon de Medoc weaves through 59 of them. If you'd like water at the aid stations, you might have to ask, but plastic cups of wine are plentiful. Suffice it to say that France's joie de vivre is very much on display.
Man versus Horse Marathon
All around the tiny village of Llanwrtyd Wells, the Welsh countryside looks green and lush, but the topography forms rocky hills, streams, and muddy gullies. Man versus Horse pits hundreds of human runners against dozens of four-legged opponents, in a battle of the species. Only two times since the inaugural race in 1980 has a human finished first.
Wings for Life World Run
On May 7, 2017, runners all over the world will join the Wings for Life World Run. While each individual course is different, all of them have one thing in common: the moving finish line. Catcher Cars pursue runners throughout the race, gradually getting faster during the competition. When the car passes a runner, that runner's race is over. The last man and woman to be caught are declared Wings for Life World Run Champions. All proceeds from the event benefit spinal-cord-injury research.
Bay to Breakers
The oldest consecutively run footrace in the world, Bay to Breakers started in 1912. Runners move across San Francisco, starting at the Embarcadero and ending at the Pacific Coast. Participants are notorious for either wearing elaborate costumes, or wearing nothing at all. No wonder, then, that Bay to Breakers has earned a reputation as one of the most free-spirited races in the world.
Big Five Marathon
Runners cross paths with herds of wildebeests, while giraffes graze in the distance and pods of hippos bathe in a nearby river. Laid out inside a South African game reserve, this race places entrants inside the habitats of many animals, including the "Big Five": lions, elephants, buffalo, leopards, and rhinos. Thankfully, park rangers monitor the wildlife, ensuring that the humans don't have added incentive to run.
Midnight Sun Run
Every June, runners gather in Fairbanks, Alaska, where the summer solstice brings around-the-clock natural light. The Midnight Sun Run starts at 10 o'clock at night, with the sun still beaming down. Runners progress through the streets and along the riverwalk of Fairbanks, population 32,000. In addition to small-town charm, Alaska's natural beauty is ever-present.
Red Bull 400
When the snow melts, ski jumps become grassy hills with incredibly steep inclines. Since 2010, the Red Bull 400 has challenged runners to sprint up these 400-meter vertical inclines. Fourteen international venues will host the Red Bull 400 in 2017, including the first official Red Bull 400 World Championships in Germany.
Tenzing-Hillary Everest Run
Modestly describing itself as "probably the most adventurous trail run in the world," the Tenzing-Hillary Everest Run offers an adventure even before the race starts. After flying from Kathmandu to Lukla, race entrants hike through Sherpa villages and visit Buddhist temples before arriving at the base of Mount Everest. The actual race starts there, with runners pitted against mountain trails at high altitudes.
BE A PART OF IT
On May 6, 2018, you can join thousands of runners in the Wings for Life World Run, a global race a world beyond any other. Step up, nominate friends, challenge family and run for those who can't.
Count Me In!