Baikal Ice Marathon Training to Run Package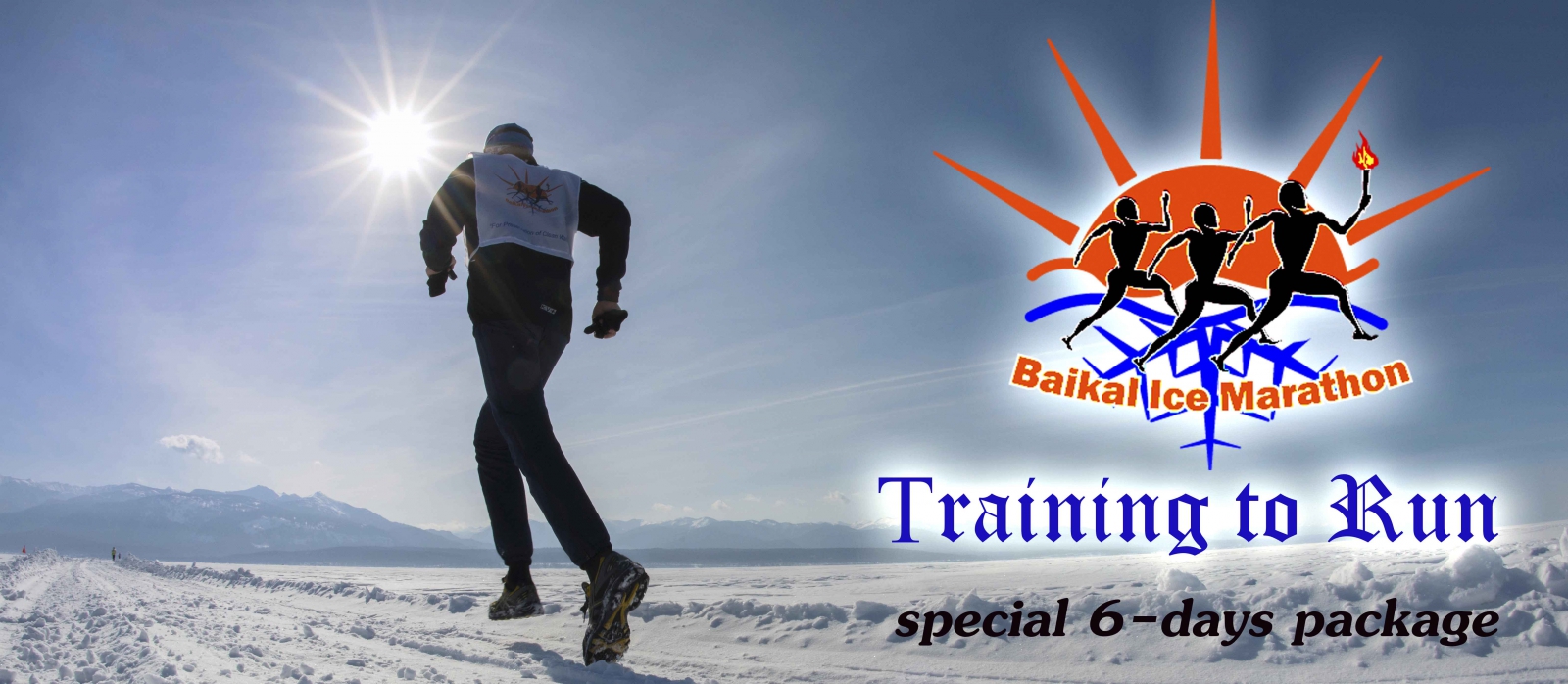 Baikal Ice Marathon " Training to Run "
Special 6 days/5 night's package to qualify for Baikal ice Marathon
We developed the BIM "Training to Run" package with expertise in mind to allow people who are physically well fit for running, but lack practical or certified experience in long distance running. This carefully designed package program enables participants to acclimatize in unique conditions of Lake Baikal northern hemisphere. Get prepared to run in the BIM by means of acquiring good load of the Lake's tremendous energy grid. Through training in the run, "stretching the legs" while skiing beautiful Sable's Mountain downhill, relaxing in one-of-a-kind Ice Banya, then have sensational feelings while plunging into the water of Baikal, enjoying Siberian special cuisine and soft drinks from natural taiga-woods berries…
Fully guided by best local expert in ice marathon running and professional English speaking guide.
Pound your way on the run across the frozen surface of the worlds' deepest and oldest Lake Baikal!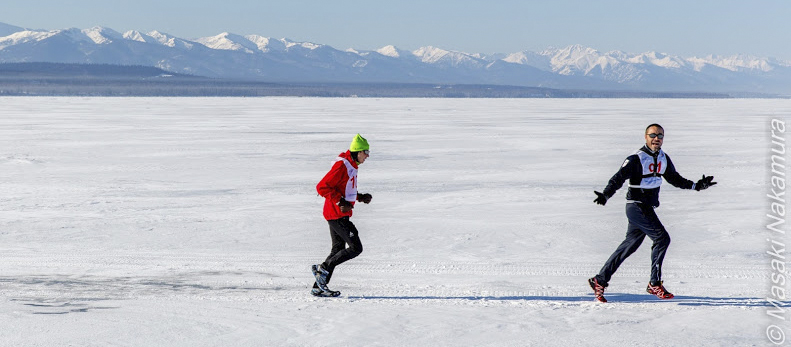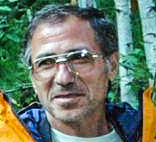 Be introduced to your Baikal Ice Marathon trainer:
Mr. Arkadiy Kalikman – the 1-st athlete who ran across Lake Baikal 40 years ago– from one shore to another a distance of 42 km. Participant of all BIM editions, 3 times winner of the BIM, ran over a 100 marathons and ultra-marathons all over the world. Merited Traveler of Russian Federation and white-water rafts man, Active Outdoors, Sports & Eco-Tourism author, Executive Director of the Lake Baikal Guides' Association, holding doctoral degree in physics and math Mr. Kalikhman published a number of scientific works on Lake Baikal, led several research expeditions in Siberia, Canada and USA. In 1994 took part in ultra-kayak marathon on Lake Michigan from Chicago to New York, and more….Specially for the BIM Training to Run Arcadiy Kalikhman developed well balanced and unqiue lectures and exercises that proved to be efficient tool for running across Lake Baikal in the BIM!
Below see the photo of 5-countires team ( Russia, UK, Mexico, Australia, Japan) that achieved very good success after undergoing the BIM course led by Arcadiy Kalikhman, last March. Among them was a young girl from Russian city of Kazan – Diana Ramazanova - who instead of 15 km made the 21 km!! – and was one of the first female half marathoners ( though she never ran before more than 5 km distance)!!
.
SCHEDULE OF THE BIM TRAINING COURSE ACTIVITIES
March, 03, 2017 – FRIDAY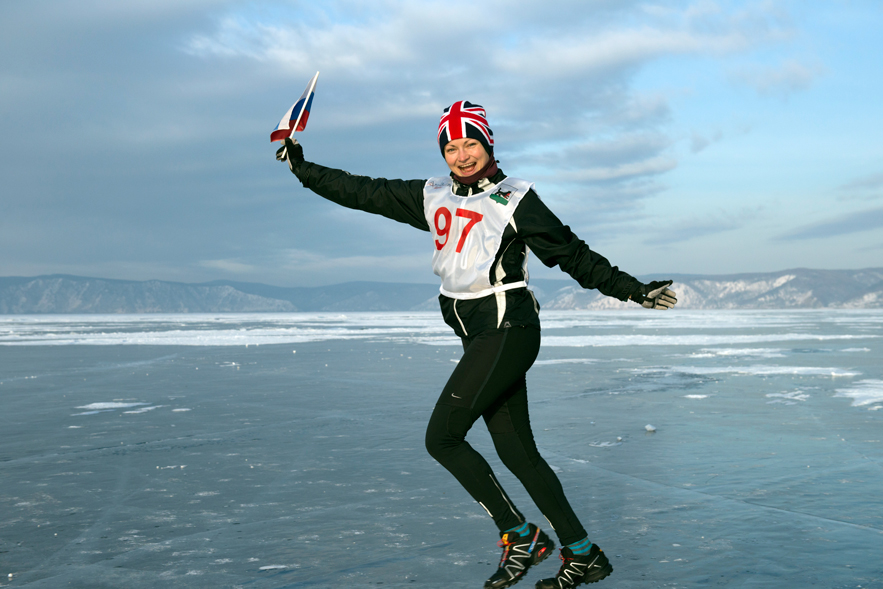 After arrival at Irkutsk airport transfer to the BIM training lodge at Utulik settlement (located near Baikalsk, 145 km away from Irkutsk). Lunch of Buryat National cuisine at the Golden Yurt cafeteria in Sludyanka. Upon arrival in Utulik check in at the lodge rooms equipped with modern amenities (private shower and toilet). Meet with your trainer for a briefing and introduction. Present reference from your physician stating you are in good physical health, and running in cold temperatures for over 3 hours non-stop will not do harm to your health (the physician reference must also have your normal blood pressure indicated). Then undergo through a simple medical checkup that involves only blood pressure measuring (questions may be asked about one's personal health condition). Dinner of local eco-specialties at the lodge followed by the lecture and video presentation on Lake Baikal unique natural features.
March,04 ,2017 –SATURDAY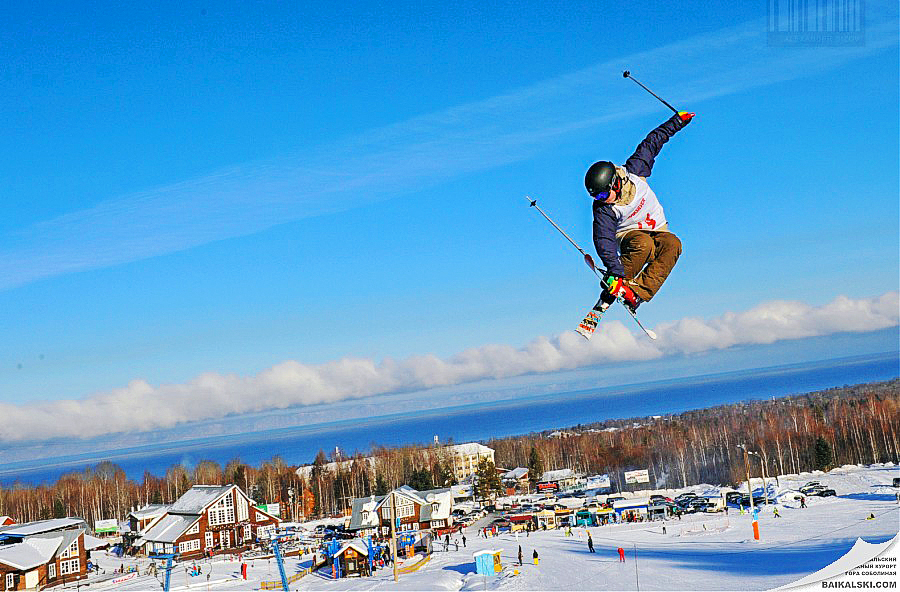 A fter breakfast – listen to the lecture of your experienced long distance runner on major running techniques in cold and extreme weather conditions. Then join the first test running session amidst the taiga-woods trails led by your trainer (7 km – no cutoff time). After blood pressure measuring have lunch. After lunch - transfer to a very popular Sable Mountain Alpine Ski center to undergo through another session of Acclimatization course on the slopes of beautiful Sable's Mountain of the Khamar Daban Mountain range (your tour includes downhill ski or Snowboard package – please, advise us in advance of your shoe and ski poles sizes). After the downhill acclimatization session and plenty of downhill skiing return back to your lodge for dinner. After dinner –presentation of the video and running techniques on the ice of Lake Baikal .

March,05, 2017 –SUNDAY
After breakfast, receive another lecture on the ice running techniques. Then join in the 2-nd running session – now run 8 km on the ice of Lake Baikal (with no cutoff time indicated). After blood pressure measuring have lunch. After lunch have one hour at your leisure. Then run another distance of 9 km on the Baikal ice (cutoff time will be indicated, blood pressure to be measured after the run). In the evening after dinner – listen to your trainer speak about preliminary results and his recommendations. Overnight at the training lodge.

March, 06,2017 - MONDAY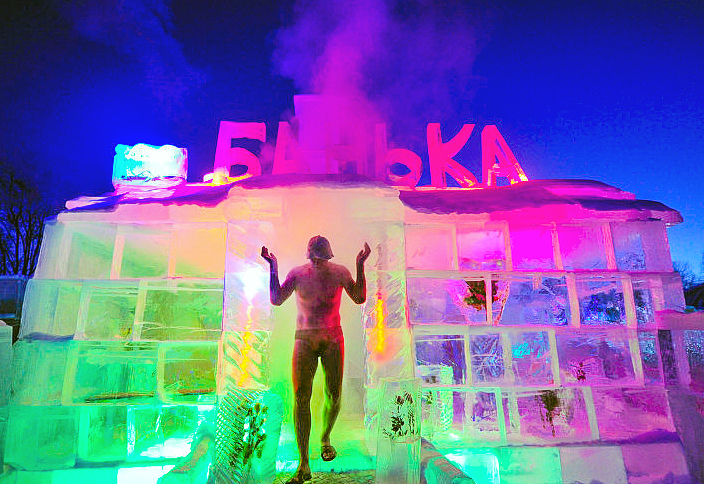 After breakfast transfer to the Sable Mountain Alpine Ski center for 2-hour active relaxation downhill skiing or snowboarding the Mount Sable's slopes. After final downhill acclimatization and leisure session, drive to the world's unique steam bath - the BAN'KA - Ice Banya Steam Bath located on the very bank of the frozen lake Baikal where the river of Babkha flows into It. The Ice Banya is a part of the "Ice and Flame" project carried on by a group of young people of the city of Baikalsk (to construct the ice banya lodge they use over 150 metric tons of ice cubes from Baikal. The ice banya has a steam/heat chamber, which can be heated in winter up to 120 ° Centigrade, relax and passage section and a pool- hole in the ice of Lake Baikal). Here you will have a steam-bath procedure with warming up inside the banya and cooling down in the Baikal ice pool, have herbal tea, and certainly, blood pressure measurement afterwards. Upon return back to your lodge have lunch. After lunch – meet for the pre-start registration in the Baikal Ice Marathon, XI-th edition, start numbers distribution and final briefing at which you will know what distance you can wualify to run in the XII-th edition of Baikal Ice Marathon "For preservation of clean water". We are sure that once you are moderately fit and had at least 5-7 km running experience before coming to Lake Baikal, you will be able to run in BIM the next day. You have had by now enough expertise and energetic load that will enable you even to compete with experienced half marathoners, at least, whom you meet today also at the brefing.
After dinner - meet again your trainer to receive his last instgruction for the next day great run on the Great Baikal!
Also, your other bylingual guide will by this time record for you special tunes/music that will accompany you the next day and encourage for a challenge!
March 07, 2017 –TUESDAY- XIII-th edition of Baikal Ice Marathon "For preservation of clean water"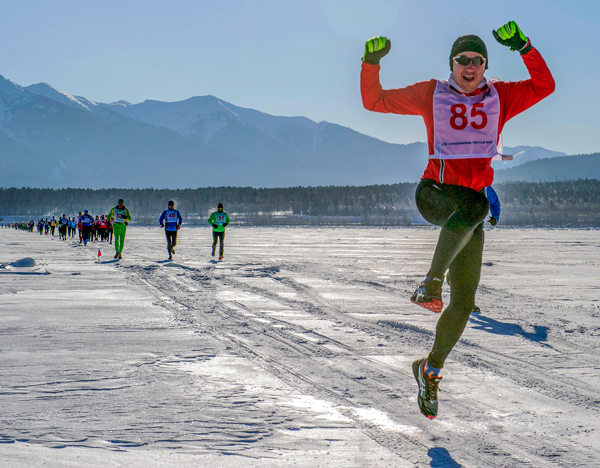 07:00 – move your entire luggage to the hotel lobby for its further transfer to Listvyanka (western shore).
After breakfast transfer to the start line of the XI-th Baikal Ice Marathon "For preservation of clean water" 10:30 a.m. – start of the Baikal Ice Marathon, XI-th edition.
After the cut-off time is over, the XIII edition of BIM is closed.
18:30 – Results Announcements and Award Ceremony followed by the Gala Party. Followed by overnight at the 3-star Hotel.
March 08, 2017 – WEDNESDAY
Transfers from your hotel in Listvyanka to Irkutsk airport for your return flight home.
Have a Pleasant Flight!
___________________________________________________________________________________________________________
The cost of the above 6-days package on all iclusive and twin room sharing with another runner is euro 1245 per runner ( accompanying person/non-runner sharing room with the runner - euro 782 p/p). Single room supplement - euro 260 p/p.